Black Friday Special: Free Gift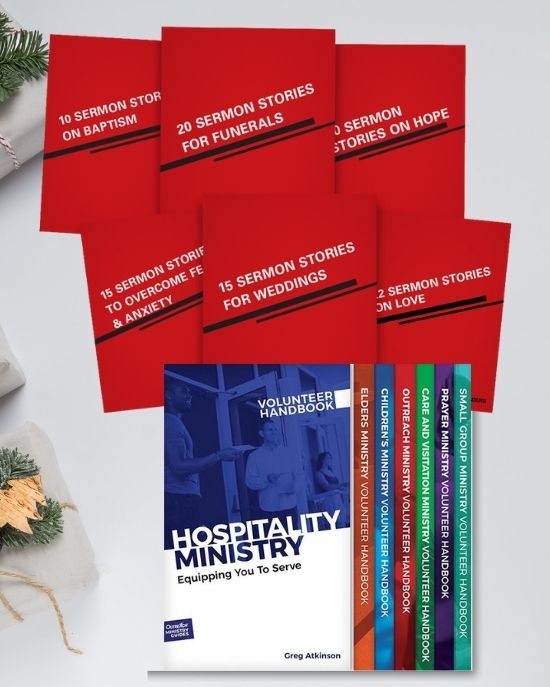 101 Sermon Stories Bundle + Ministry Guide 7-Pack
The 101 Sermon Stories Bundle includes more than 100 sermon stories to choose from for every occasion and topic.

Purchase now and get the Ministry Guide 7-Pack ($39.99) for FREE. Empower your church teams to grow like never before.
$̶1̶1̶9̶.̶9̶8̶ $79.99
Add to cart
What's Included:
Ministry Guide Series 7-Pack

This 7-Pack includes 7 handbooks:




Small Group Ministry- Charge your small groups leaders to take group members deeper.



Prayer Ministry– Empower your prayer team to grow and learn.



Children's Ministry– Strengthen your children's ministry in new and exciting ways.



Outreach Ministry– Ignite a passion for reaching the lost.



Hospitality Ministry– Prepare your hospitality team to welcome visitors.



Care & Visitation Ministry – Equip your team to carry God's grace into homes and hospital rooms.



Elders Ministry- Commission your elder teams to build unity and confidence to be strong spiritual leaders.

101 Sermon Stories Bundle

Jesus loved telling stories. Lots of them. But why?



Stories connect the spiritual world with what we see all around us. They let our hearts understand the deep truths of God.



This instant download will help you feel more confident sharing spiritual truths with your church. And with more than 100 stories to choose from, you'll have something for every occasion and topic.